The Gingerbread Kids
Marcia Anderson's children's vocal performing group called "The Gingerbread Kids" have been spicing up the lives of Ut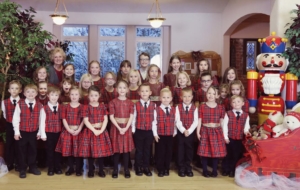 ahans young and old since 1978!  Marcia focuses on giving children the opportunity to sing out cherished & wonderful Christmas songs in a group setting and letting each child experience finding and developing his/her own voice at the same time.  As a children's show choir, she also incorporates theatrical movement and dance to further their performing ease.  The Gingerbread Kids have been seen in their green & red plaid dresses and vests all over the heart of Davis and Salt Lake Counties–from Temple Square to Retirement Homes to the Dicken's Festival–sharing the magic of the holiday season.  They currently rehearse from September to December for the performances scheduled in December. Let your child join in this memorable holiday tradition!
For boys and girls, ages 5 to 13.
Classes are held Mondays from 4:05-5:00 p.m. Cost is $30/month (family rates available). Click here to print a registration form, then call Marcia at (801) 298-KIDS for more information and to sign up.
https://preschoolcentervilleutah.com/wp-content/uploads/2022/06/gbk22-scaled.jpg